Apply for Bell Ringer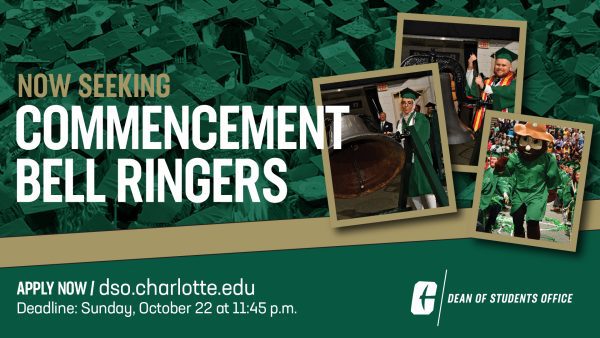 CALLING ALL GRADUATING NINERS!
The Dean of Students Office is conducting a search for the Fall/December 2023 Student Bell Ringers. This role is a prestigious honor for the selected individuals.
The Bell Ringer performs the longstanding tradition of ringing the UNC Charlotte "victory bell", which was gifted to Ms. Bonnie Cone in 1961 when Charlotte College moved from its old site at Central High School to the current UNC Charlotte location. The qualifications of the Bell Ringer encompasses an outstanding student leader who has demonstrated exemplary 49er spirit within organizations, volunteerism, and/or service to others.
One Bell Ringer will be selected for each ceremony during the Commencement ceremonies.
Applicants must have at least a 2.75 cumulative GPA, be in good conduct standing, and meet graduation clearance requirements set forth by the Office of the Registrar to graduate in December. A resume AND personal statement ARE BOTH REQUIRED in order to assist the committee in getting to know your background and who you are.
Online applications will be open from 8:00am on Monday, September 18, 2023 to 11:45pm on Sunday, October 22, 2023. No late submissions will be accepted. A letter of recommendation/support is highly encouraged but not required for an application to be considered complete. Please have any recommendation/supporting documentation sent via email to sstaff19@charlotte.edu.
ALL applicants will be entered into a prize drawing!
For questions or additional information, contact Sharisse Stafford in the Dean of Students Office at 704-687-0345, via email sstaff19@charlotte.edu, or in 217 King Building.
Apply for Bell Ringer (Click the link or use the QR Code below)